Moving companies are not a new concept, yet a lot of people have really the wrong perception of them. There are a lot of misconceptions that are really not the truth, and today we are going to debunk the most common misconceptions. We recently told you how to choose between moving companies, now let's look at the misconceptions associated with them.
Misconception 1: "Moving with a moving company is very expensive"
Contracting a moving company has been associated with the high and the mighty. A common sentiment we often get at Kejamove is:
"why would i contract a moving company when i'm only moving a 1 bedrooom house? I could just get help from my friends".
Well, for most people moving houses that is the common thought pattern. On face value it may appear cheaper, but you forget you have to:
Identify the right size of truck to use (otherwise you'd end up doing multiple round trips).
Identify and hire people to help load and unload. (which is a really big security risk if you do not know the people well enough).
Buy the right packing material: packing boxes, tapes, foil, bubble wrap etc.
Arrange the house yourself – (while packing may take a few hours, unpacking is really one of the most tedious activities).
Risk incurring unprecedented costs e.g a run with the police/city council who may demand you provide receipts for all items you re moving to prove they are really yours.
…and at the end of the day you will be too exhausted; not to mention the frustration oflosing/damaging some of your household items..
It gets even more complicated if you got help from your friends as you can't really claim liability for loss/breakage of any item.
Looking at this in depth, you will find that hiring a moving company in most cases is really cost-cutting.
Misconception 2: Movers are untrustworthy
Most people in busy cities associate strangers with thieves (and it is not without reason or cause). Therefore the thought of letting total strangers into close proximity with all their belongings tends to scare many, understandable.
On the contrary, company reputation, at least for professional moving companies, is an expensive asset which is diligently guarded. Cases of theft could easily get them out of business so they will do everything in their power to care avoid that. On your part (the customer) it is important that you check reviews of a moving company before contracting them. At Kejamove, we ask all our customers to review us after completion of their house/office move. You can see our reviews here.
Misconception 3: Movers do not take liability for broken/lost items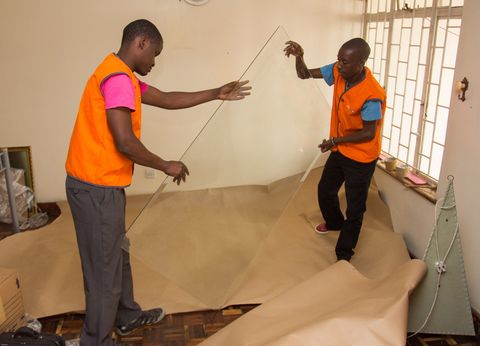 Loaders that work for most professional moving companies are thorough professionals. They have been trained to handle your items with utmost care, professionalism and work at an admirable speed. Service delivery is all they care about, and with every move, they become better than they were before.
Thus, the risk of getting breakages is on the lower side, and the mover is usually also directly responsible in case you lose an item.
Misconception 4: All movers are the same
It is very possible that your previous experience with a moving company was traumatizing, which is very unfortunate. But as stated above, every moving company is trying to create a name for itself. All movers are distinct in the way they offer their service. A bad experience with one moving company is not sufficient to call all fish in the sea mudfish. Try out services from other moving companies, you may be surprised at how good some of the services can be. Remember, legitimate customer reviews don't lie.
Misconception 5: All movers charge the same prices
It is common for most people to call a moving company and when they find that the prices are above the intended budget label all of them expensive. All movers have different price quotations. Pick up the phone again and call another mover and best of all NEGOTIATE your price. Most moving companies are very welcome to negotiations.
There you have it, 5 myths about moving companies debunked.
——
Remember, Kejamove is always here to provide professional home and office moving services. We are reachable on 0711931212/0718388667.
You can also get a free quote by filling the form below:
[formidable id=2]